Joined

Feb 5, 2010
Messages

4,250
Likes

3,387
Nice to see there are many bikers on the forum.
30 years I ride bikes, started with a Yamaha YZ 50 when I was 14. Drove on 4 continents since.
I may have owned like 20 different bikes since (including a few Vespas among which a 200cc I was doing wheelings with! Easy task though since it's a rear engine).
Among my bikes, I have sweet memories with a Husqvarna WR240 from 1976 or 1978 (great 2 stroke Enduro), a Suzuki DR600 Dejebel from 1989 (Crossed the Sahara with it), a Suzuki GSXR1100 from 1992 with 147HP (hum... Got a few speeding tickets. Reached 290 km/h on the tachometer once... on a circuit of course... hum..., oh well I was in my early 20s) and an old BMW from 1978 (mhhhh the feeling of the flat twin when you start to accelerate, like the bike is going a bit sideways).
A few pics:
The Suzuki DR600: used it for a 23 days journey, starting from Paris, crossing Spain, reaching Morocco (crossed the "Rif" region there... and tasted the local specialty
), arrived in Algeria then headed plain South through the Sahara desert. Drove nearby Tamanrasset, slept alone in the desert (great XP), headed North to Algiers, then East to Tunisia. Embarked for Sicily, arrived on the Italian peninsula, drove North, back to Paris!
That one was in Timimoun (Algeria) if I recall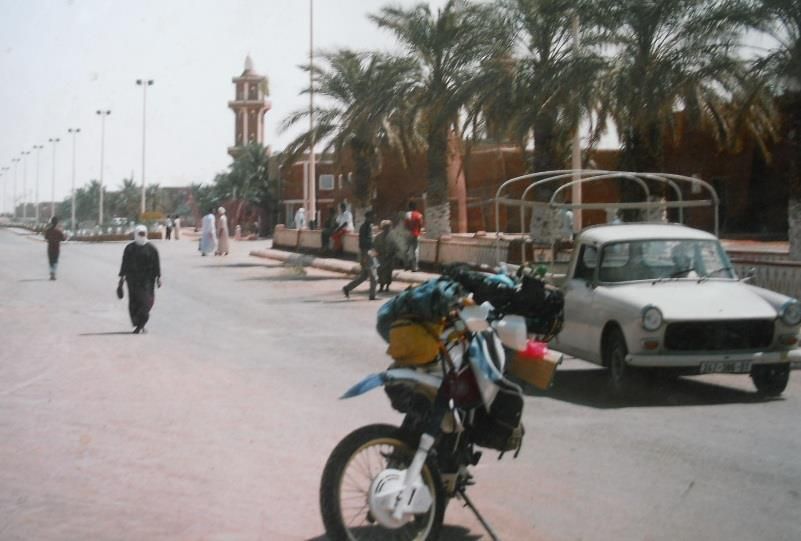 And my GSXR1100 (on the right): They were limited at 100HP (French legislation) but all you had to do was to take the tank off, unscrew the top of the carburators and there were marks in it where to drill!. 147 HP with a NIKKO exhaust system, semi-soft tires.... Wheelings up to 110/120 km/h... In 10.000 km, I had already broken my gearbox! Luckily it was stolen (was fully insured) otherwise I'm not sure I would still be alive today.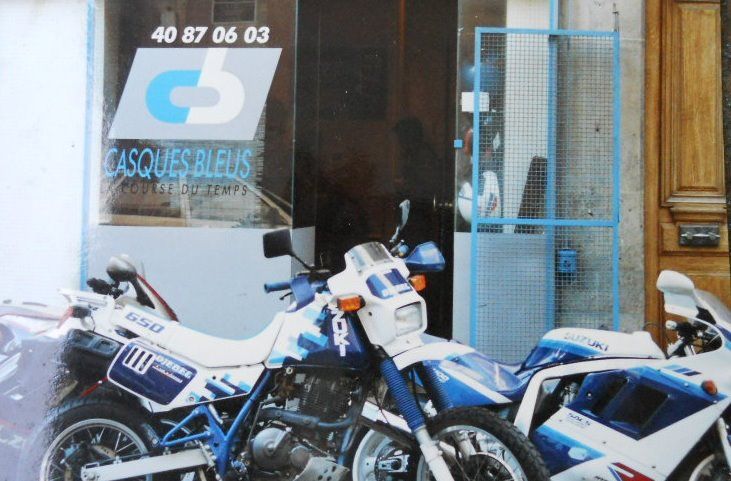 Accidents:
I should have died one time for sure (major accident... hitted a car at 70 km/h, landed 12 meters after flat on my back = would have been on the head I would have kissed goodbye my spine).
Two broken wrists, broken leg (screwed), broken ankle (screwed), many burns, meniscus in bad shape now, my back is fragile, etc... But I still drive.
***
The BMW school is certainly excellent but BMWs have ABS and such. Way different to brake a non ABS bike, especially in curves (brake 80% on the rear and 20% on the front.... otherwise you'll kiss the road soon).
For a beginner, who will use the bike in the city only, I'd recommend a scooter: at least your legs are protected by the body of the bike, and not around it. They have small wheels though, which is a problem on uneven roads.
Seems a good solution to train by yourself but with the guidance of some experienced bikers:
- slalom (both at minimum speed + medium speed)
- emergency braking
- braking in curves
- basics about how a motorcycle works (what to look for, what sounds to listen for,...)
- driving in a city (expecting the unexpected, especially here), looking at car driver's heads when coming from behind (did they see you in their mirror?)
- learning about balance on a bike (releasing hands from the handlebar while driving and pushing gently on the right handle: bike will move right, not left, etc.).
- learning what to do when you're about to fall on a soft ground (sand, mud) = you accelerate, you don't brake (tricky one since you need to go against your instinct)
- learning what to look for when you drive between two lines of cars (on Gral Paz or in the city): the most dangerous part likely
etc.
***
Oh yes, I now have a modest Motomel 200 Supermotard (broken...), and I'm tempted by a new one.
Count me in if there's one day a motorcycle training session. Could be fun.